We are celebrating 25 years of ministry in April 2022!
The Christian Counseling Center was established through the vision of First Presbyterian Church of Columbia, South Carolina to serve both the church and the community. Much prayer and planning for a theological foundation was done for the Counseling Center's ministry. 
The Staff and needs of ministry for the Center continue to grow, as our world continues to change. Yet, the foundation of Christ and His truth remain the secure foundation. Each year, thousands in the Midlands receive the services of the Christian Counseling Center.
We are grateful to God for His provision throughout the past 25 years and are expectant of how He will continue to work through the Center, having an eternal impact in Columbia and throughout the world. 
Thank you for your support in prayer, recommendations, and giving. We are grateful for your support!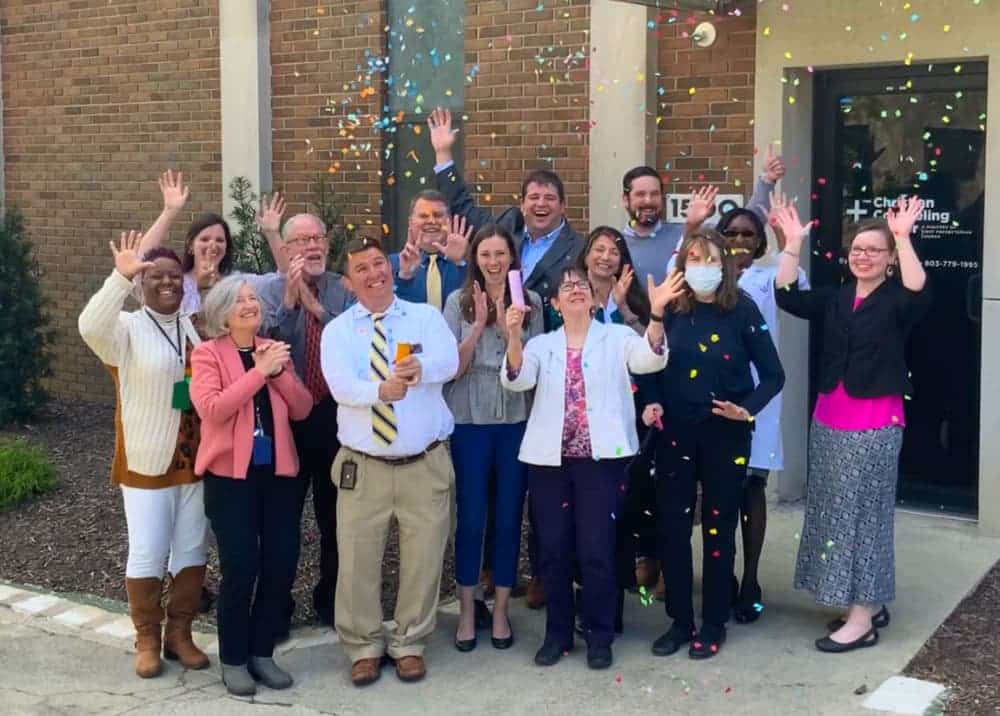 Some of our Staff pictured in celebration of the Center's 25 years!
Video Transcript:

Hello!  I am Dr. Tom Barbian, Executive Director of The Christian Counseling Center, a ministry of First Presbyterian Church in Columbia, South Carolina.
These are exciting times for the Counseling Center.  April 1, 2022, marks 25 years of ministry in the Midlands.
The Christian Counseling Center began as a vision of First Presbyterian Church to provide Christian Counseling services to church members and to the community.
The center's mission was to be part of God's kingdom work of bringing Healing and Wholeness to a broken world.
We are accomplishing that by offering a full range of outpatient psychotherapy services, provided by highly trained Christian Counselors. Listen to the words of one of our clients:
 
"It may sound cliche that this experience has been life changing but thankfully it has. After several years of living life on auto pilot and exhausted from anxious thought, I finally came to the realization that I didn't want to live that way anymore and I needed help to make that change.
Digging into the main source of my anxiety and learning tools to be able to manage my anxiety has allowed me to take my life back.
I have more energy, awareness of, and interest in the world going on around me.  I have better relationships, and an understanding that stress happens and anxiety is a legitimate thing but it doesn't have to control my life."

In our first 25 years, the Christian Counseling Center of First Presbyterian Church has become the largest provider of Christian counseling services in the state.
We currently provide counseling out of 4 locations: Our downtown office, and 3 satellite offices in Irmo, Northeast Columbia, and Sumter.  Online counseling is also available.
Due to the generosity over the years of friends and supporters, we have been able to establish a scholarship fund to help those in need to receive Christian Counseling services.
Please join us in celebrating this anniversary.  Tell a friend.  Consider making a contribution to the Christian Counseling Center of First Presbyterian Church, either on this website or through the Midlands Gives Event on Tuesday May 3, 2022. Thank you. 
Main Office
1500 Lady Street
Columbia, SC 29201
Monday-Thursday- 8:30-5:00
Friday- 8:30-12:30
St. Andrews Office
Located in St. Andrews Presbyterian
6952 St. Andrews Road
Columbia, SC 29212
Northeast Office
Located in Crossings Community Church
2831 Clemson Road
Columbia, SC 29229
Sumter Office
Located in Westminster Presbyterian Church 230 Alice Drive Sumter, SC 29150
Satellite Office
Located in N. Trenholm Road Baptist Church
6515 N. Trenholm Road, Columbia,
SC 29206.